Design Your Own Custom Varsity Jacket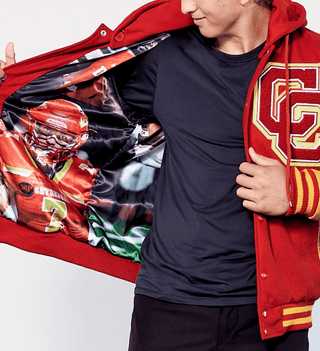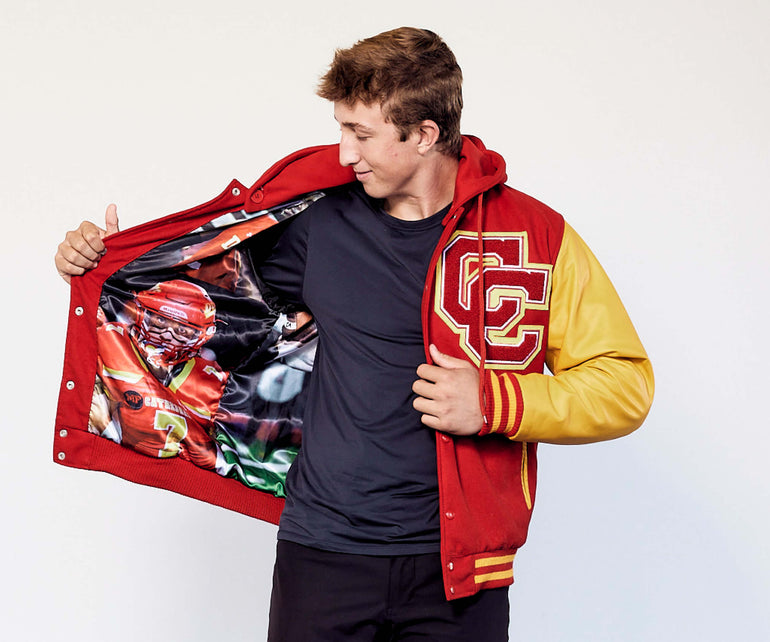 Design Your Own Custom Varsity Jacket
CUSTOM INNER-LINER:
Upload your own images, with our easy to use builder.
FREE PATCH PLACEMENT:
We pick up all your existing patches for no additional charge.
REMOVABLE DICKIE:
Easily remove dickie/hoodie.

PREMIUM & LIGHTWEIGHT:
100% genuine leather & molton wool.

How it works
Find Your School:
Personalize your jacket from your high school's collection. Click SHOP SCHOOL and make it yours.
Choose Your Jacket:
Choose your jacket that you want to design, Varsity Jacket, Bomber jacket or Varsity Sweater.
Customize Jacket
Add your name, patches, and inner lining photos.
Checkout
Get your letterman jacket in 5-6 weeks. Updates at every step. Half the time of our competition.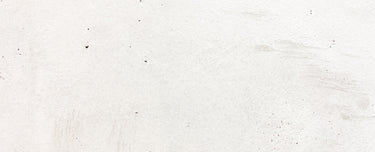 100+ REVIEWS
WHAT OUR FANS ARE SAYING
Love showing off my new varsity jacket. The inner liner is the best part!
Gary s.
DANA HILLS HIGH SCHOOL
The color and patches came out great. My grandson loves his jacket! Great way to support my grandson's football team.
Nana
Mater Dei Catholic
My jacket came in only 5 weeks. Love my interior, always get asked about it.
Tiffany
Lower Lake High
The best part is the interior lining! So cool! Everyone asks where i got mine.
Janet
Burlingame High School
THE DETAILS
Affordable pricing. Financing Available
FAST DELIVERY
Your jacket will ship withing 3-4 Weeks
QUALITY
Only the highest grade materials used.
CUSTOMIZE IT
Your style, your legacy any way you want it.